0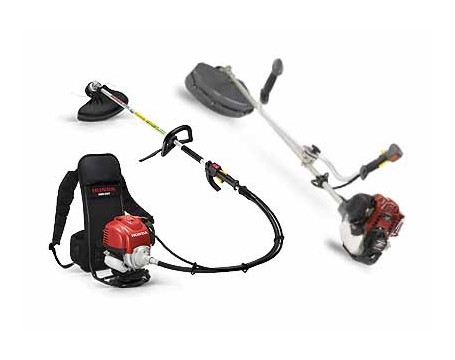 Brushcutters
Brushcutters are used to mow grass where steep slopes or very uneven ground prevent the use of lawn mowers or lawn tractors.
Available in various displacements to meet all needs, they also have the possibility to add additional features, such as loppers.
A special mention must be made of the Honda Versatool multi-function implements, to which 8 different optional attachments can be connected, to take care of your green with a single and reliable machine.
Petrol brushcutters
With these extremely robust and reliable 4-stroke garden tools, you can go where no other brushcutter can go. They are driven by a unique six-spline shaft (unlike a traditional splined wrench design) that provides greater strength and better torque and power delivery to the work area.
The brushcutters are equipped with a special type of non-contact bearing. These bearings, which are the same as those used by NASA, are renowned for their resistance to dust contamination and are the best for their extreme operating speed. These bearings run freely with little resistance and are extremely quiet. They last longer than traditional full contact rubber seal bearings, which are subject to dust contamination, overheating and wear faster and easier than you think.
Professional petrol powered brushcutters
The precise manoeuvrability of this professional brushcutter makes it easy to work with different types of foliage and the flexible shaft provides the extra control that a fixed shaft cannot offer. So whether you're facing dense undergrowth, steep grass banks or cramped areas around obstacles, you'll get the better of it with our side-mounted brushcutter. And with the ability to replace the nylon head with a heavy-duty blade, it offers the versatility you need to facilitate the most demanding jobs.
Battery-powered cordless brushcutters
Nothing can come between you and your garden, not even rain. That's why the new Honda cordless brushcutter can be used safely in all weather conditions. The 9Ah battery is water-resistant, allowing professional gardeners to continue working even when the weather is unfavourable.
Accessories and spare parts are also available for the entire range.
Showing 1-13 of 13 item(s)