0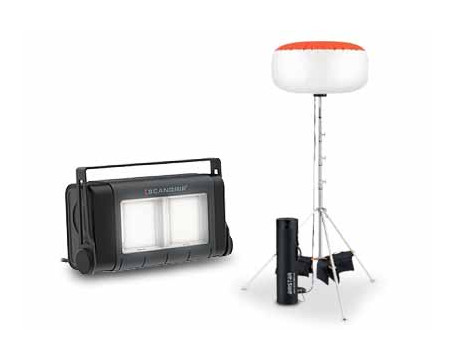 Lamps and Lightglobes
LED lamps and lightglobes are ideal products for night work that require a mobile, light and handy lighting system. LED lamps and lightglobe lamps are easy to assemble, disassemble and transport and require little energy to operate. LED lamps and lightglobe lamps provide night lighting or missing lighting for events, sports events, construction sites and can be of varying sizes to suit every need.
The lightglobes, also known as illuminating balloons, are extremely light and easy to handle, ideal for illuminating at night on construction sites, events and film and photo shooting. They are very easy to open and store and easy to transport; they consist of a tripod pole to which the globe illuminated by LED lamps is fixed: the lightglobe sheets are generally water-repellent and dust-resistant, therefore suitable for heavy duty use. The lightglobe sheets for sale in our catalogue are also available with LED lamps.
LED lamps, on the other hand, are portable lamps for professional use and are perfect allies in jobs where the illumination must be optimal, but also quickly changeable. These lamps are easy to handle due to their low weight and compactness. In addition, LED technology makes the lighting of these lamps optimal in every direction.
In our catalogue we have available the lamps and ligthglobes of the best brands in the world such as Luxtower, Airstar, Elc, Scangrip, Dometic, Pramac. The lamps and lightglobes offered for sale are innovative products at the best price on the market.
It is often advisable to combine the chosen lightglobe with a light and portable generator set, to obtain an integrated solution.
Do you need advice on which lightglobe or LED lamp to choose? Contact us, our customer service is ready to advise you on the right product!
Showing 1-36 of 43 item(s)