0


Welcome to the dedicated eCommerce MASE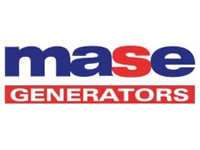 Mase: land generators, marine generators and much more Mase is one of the leading companies in the design and production of generating sets in our catalogue. Mase boasts a wide range of types of generators and products for the production of land and sea energy, welding and lighting...


MASE LT 10000 K Lighting Tower with Kubota Generator 10 kVA
Phase

Single phase

Maximum power single phase (KW)

8

Continuous power single phase (KW)

7.2

Maximum power single phase (KVA)

10

Continuous power single phase (KVA)

9

Fuel

Diesel

Frequency (Hz)

50

Voltage (V)

230

Sockets configuration

2 x 230V 16A CE

Engine

KUBOTA D1105-E

Engine rpm (rpm)

1500

Starting system

Electric

Engine capacity (cm³)

1123

Number cylinders

3

Cooling

Water

Alternator

Synchronous

Type of lamps

Halogen

Lamps

4 x 1500 W

Illuminated area (m²)

2000

Lifting System

Manual lifting system

Maximum height (m)

8

Open size (mm)

2935 x 2612 x 8000

Lenght closed (mm)

2935

Width closed (mm)

630

Height closed (mm)

2596

Transportability

Slow Trailer

Stability to wind (Km/h)

110

Fuel tank capacity (L)

100

Consumption (L/h)

2 at 75% of the load

Running time (h)

50 at 75% of the load

Acoustic power

96 dB(A)

Acoustic pressure

71 dB(A) at 7 m

Dry weight (Kg)

655

Silenced

Yes

Super silenced

Yes

Engine manufacturer

Kubota
Mase Generators was founded as a manufacturer of 400 W portable generators, light and compact, which have allowed its brand to be known and appreciated throughout the world.

At the beginning of the 80's Mase Generators produces the first marine generator and specializes in the field of generators for fixed installation on board vehicles. The company's attention was also focused on products intended for professional use such as motor welders and construction site units.

In 1987, the production of industrial power generators began, with engines at 1,500 rpm. And powers from 10 to 2000 KVA, which today represent the real strength of the company.

In 1994, the electric scooters "ECOSPEED" and "CLEAN", together with the traditional production of generating sets, represent a significant turning point confirming the continuous evolution and willingness of the company to meet the demands of a market increasingly sensitive and attentive to the protection of the environment and problems related to noise and air pollution.
In 1998, confirming the growing need of the market in terms of quality and service, Mase Generators reached the important goal of the certification of its Quality System according to UNI EN ISO 9001 by SGS ICS S.r.l. (International Certification Services).

Since 2000 Mase Generators for a direct presence in the American market has founded Mase Generators of North America with two offices in Michigan and Florida.

At the end of 2005, Mase Generators acquired the majority shares of Gen Set S.p.a. Of Villanova d' Ardenghi.
In 2007 arrives Mariner, the newest marine line for professional use.
2009 is the year of Voyager, the extension and enhancement of the existing line.
In 2012 Star, the line of high-frequency battery chargers, was born.
For over 40 years Mase Generators has been producing generators that stand out for their extreme silence, compact size, the right weight/power ratio and for their innovative and refined design.

Mase Generators follows its customers promptly from the first contact to the delivery of the finished product. It also has an after-sales service that provides technical advice and coordinates the authorized Mase service centers in Italy and worldwide.