0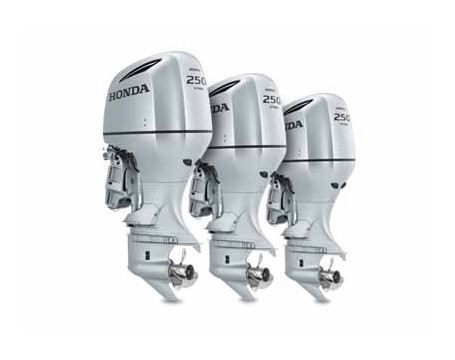 Outboard Motors
Outboard motors Honda petrol-powered ideal for all types of boats: a wide range available for sale.
All the technology of these engines is at your complete disposal in every situation from the small to the big boat.
Honda outboard motors offer the best performance, reduced fuel consumption and greater control; high technology at your service.
Honda outboard motor technology expresses its best in the V6 range which has been totally redesigned to give the best in terms of performance and reliability, with the lowest fuel consumption in its category. It is the result of careful and rigorous testing conducted under the most extreme conditions so that you can face the sea without worrying about anything.
In our catalogue you will find outboard motors with manual or electric starting, with bar or remote control; motors with power from 2 up to 250 hp are available.
These outboard motors can be installed individually or in pairs; in the second case it is necessary to equip the two outboards with two different propellers; a normal propeller and a counter-rotating propeller, to avoid power loss.
How to choose the most suitable outboard motor?
- Power: Depending on the size of your boat, choose the number and power of outboard motors;
- Engine adjustment and inclination: it can be manual, assisted or internally powered;
- Shaft length: an outboard motor can have a short, long, extra-long or ultra-long shaft;
- Alternator output: affects the battery charge capacity and depending on the outboard motor model can be from a minimum of 3 A to a maximum of 90 A.
On this site you can also find a wide variety of accessories and spare parts for original Honda outboard motors.
Showing 1-36 of 133 item(s)