0
REFRIGERATORS AND FREEZERS
....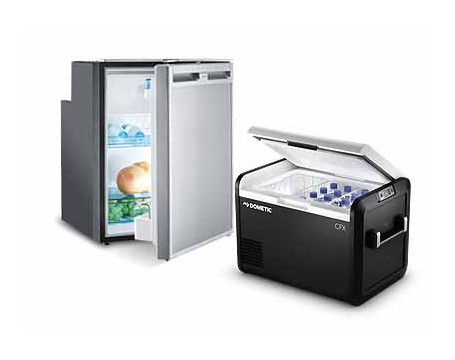 Portable refrigerators and freezers

Dometic's range of refrigerators and chillers is truly multifunctional, as they can be used as a fridge, fridge/freezer or freezer.
The Dometic refrigerators offered by us can be used in various situations and for various needs, especially for campers, trucks or boats. Whether you are a worker or a fan of motorhome or boat trips, the refrigerators we offer are perfect for refrigerating your food and drink.
Choose from the many Dometic refrigerators for motorhomes or boat refrigerators that are suitable for you, built-in or portable, depending on the environment around you. These refrigerators are lightweight, compact and have low environmental and acoustic impact. Absorption refrigerators are recommended because they are silent, avoiding disturbing your trip or your relaxation, while keeping refrigeration to a maximum level.
In addition, among the nautical refrigerators some, can be powered by solar energy in full respect of the environment or through a convenient inverter.
In some products of these refrigerators for motorhomes and boat refrigerators there is a patented innovation that makes some cells removable and other smart electronic solutions, which regulate the speed of the compressor while saving energy.
For these portable refrigerators we have chosen Dometic as your brand for reliability and quality. If you need more information please do not hesitate to contact us.
Showing 1-36 of 181 item(s)