0
ROAD MARKING MACHINES
....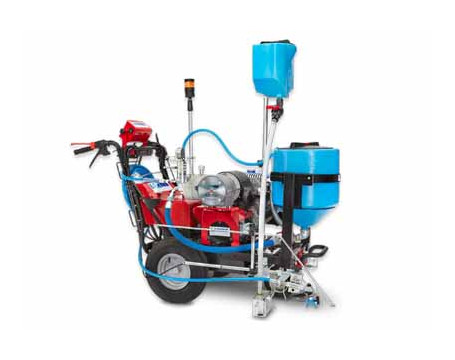 Road marking machines
LARIUS professional road marking machines combine product performance with the needs of the operators and allow the marking and maintenance of all types of strips related to the paving of roads, highways, airports, pedestrian crossings, bicycle paths, parking lots, yards and everything else required by the highway code in the field of road marking, guaranteeing perfect lines on different surface levels. Airless technology involves high pressure spraying of paint through a centesimal sized nozzle as opposed to traditional low pressure spraying where the paint flow is atomised through the air supply.
Discover all the road markers in our range and select the best model for you through the search filters: you can buy line markers with variable tank capacity, different sizes and features.
Buy online your road marker machine, we guarantee safe payments and shipments all over the national and international territory.
On sale also spray paint pumps, visit the dedicated section.
Showing 1-11 of 11 item(s)