0
TILLERS AND MOTOR CULTIVATORS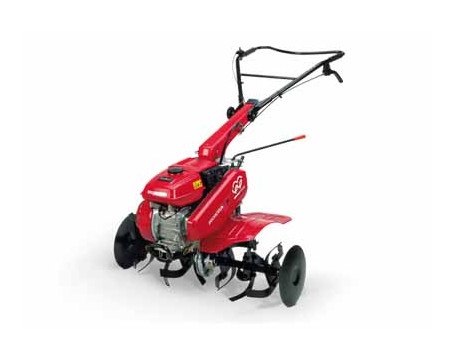 TILLERS AND MOTOR CULTIVATORS
Tillers for sale with powerful and reliable Honda petrol engines for large terrains.
The compact garden tillers and motor cultivators for sale offer you optimal performance for large flowerbeds and vegetable gardens. Are you serious about gardening? Try one of these efficient, lightweight and sturdy power hoes with 160 cc engines and see how they dig and turn all kinds of soil.
The quality of the finish will impress you first and foremost. This is mainly due to the engine, the transmission unit and a sturdy clutch that direct the power where it is needed, i.e. deep down.
Just select the speed. All Honda compact rotary tillers are equipped with a transmission that ensures optimal and powerful traction, regardless of the speed of the tiller. This means that you can adjust the cutter's feed rate relative to the cutter's performance to achieve a perfect result every time.

Counter-rotating rotary tiller
Ideal for large plots of land, the counter-rotating motor hoes are durable and easy to handle, and penetrate even the hardest and most compact terrain with ease.
The counter-rotating rotary tillers are designed to simplify the most difficult operations, such as working large plots of hard, compact soil.
Our counter-rotating rotary tillers are powerful and reliable, and are available in different engines suitable for all types of applications. They are very easy to handle and their special counter-rotating tillers speed up the work enormously.
Using counter-rotating rotary tillers is a piece of cake. This is because the powerful 4-stroke engine is equipped with multiple gears and delivers only the necessary amount of power each time, regardless of the working conditions.
Visit also the section dedicated to tiller accessories, to set up your work equipment in the best possible way.
The products can have additional features thanks to optional extras dedicated to them.
Showing 1-11 of 11 item(s)