0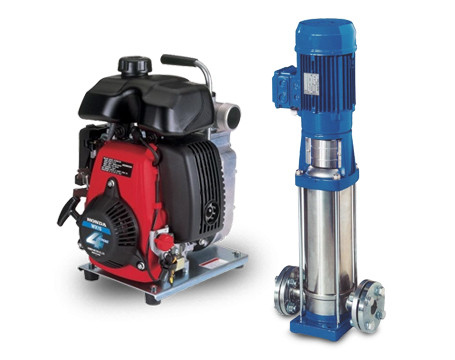 PUMPS AND TANKS

Pumps, electric manuals or equipped with internal combustion engine, fuel or liquid tanks, in this section we find all the systems for pumping, transfer and storage of fluids; motor pumps, electric submersible and surface pumps, hand pumps, reservoirs, tanks and cisterns.
We have at your disposal a wide range of the best brands: Serbaoi AMA, AXO, Binda, Genmac, GMP, Honda, Hyundai, Idrofoglia, Luxtower, Mase, Mosa, Pramac, Tecnogen.
The wide variety of products allows you to find the most suitable solution according to the fluid you need to work with (clean or black water, aggressive liquids, gasoline, diesel, grease, water with the presence of debris) and depending on the space available.
Pumps

From manual rotary pumps to motor pumps with diesel or petrol engines, there are many uses for fluid and liquid pumping systems: irrigation, drainage, pumping from wells, fire-fighting, transfer of fuels, food liquids, greases, sea water pumping, power supply to generators and much more.
We have divided the pumps into three main categories: hand pumps, pumps with electric power supply, motor pumps with diesel and petrol engine.
Tanks

Available for sale and in some cases for rent, you will find in this section tanks of all kinds: tanks and cisterns for storage of fuel, water, food liquids, tanks, above ground or interrogation tanks.
In some cases the tanks and cisterns in this section are equipped with an electric or manual pump.
Do you need delivery pipes, suction pipes, hydraulic fittings or valves for your pumps or tanks? In this section you can find everything you need!
Showing 1-36 of 1105 item(s)