ZIPWAKE IT600S INTERCEPTOR WITH CABLE AND CABLE COVERS

Series S is a product family that includes four straight, four V-shaped, four chine and one intermediate interceptor.
This first-ever modular design made for mass production makes the interceptors durable, affordable and perfectly adapted to any planing or semi-planing boat between 6 m and 18 m (20-60ft).
All components have been meticulously engineered to withstand impact and avoid
water ingress, minimizing the risk of costly maintenance and downtime.
Interceptor or blade actuation takes place by way of a calibration-free submersible electric servo within the interceptor unit.
Its natural water cooling provides excellent working conditions for the brushless DC servo motor, which runs on 12-32 volts.
The blade stroke takes 1.5 seconds, outperforming conventional trim tabs by at least a factor of 5.
Installation is made easy with an integral mounting plate and the option of a concealed or abovewaterline, self-sealing, thru-hull cable fitting. The preferred mounting option is achieved by simply routing the servo cable differently, as shown below.
Each interceptor comes with the thruhull cable fitting, cable covers and a practical drill template.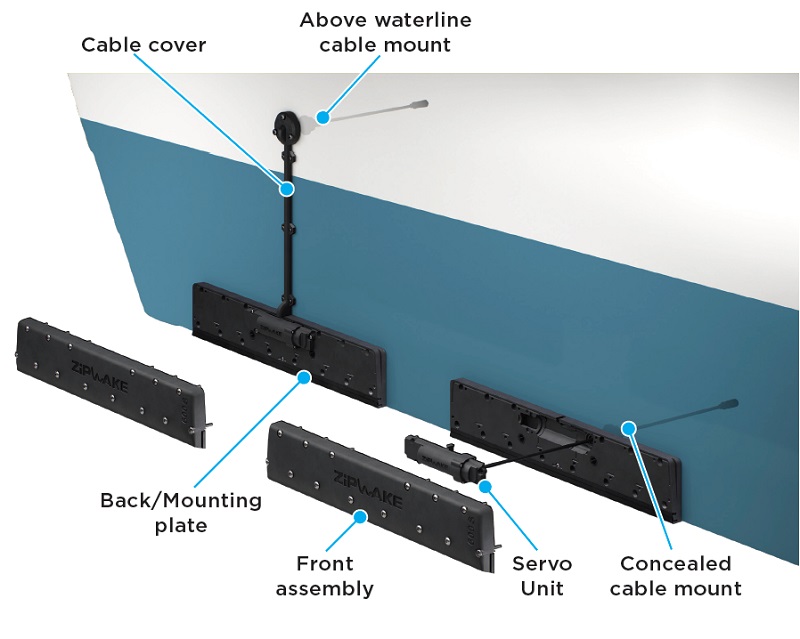 Different-sized interceptors can be favorably combined to span as much of the transom edge as possible. A full beam is always the optimal arrangement from a lift-to-drag ratio point of view.

V-shaped interceptors for centerline mounting

V-shaped interceptors for centerline mounting are perfect for filling the gap between twin outboards or sterndrives, as well as dual propeller tunnels.

The four V-shaped models cover deadrise angles effectively between 11 to 24 degrees.

Centerline mounted interceptors can be included in new installations, or retro-fitted to already installed systems.

Chine interceptors for maximum lift

Chine interceptors provide a unique means of maximizing pitch and roll motion control by
utilizing the furthest outboard surfaces of the hull bottom for lift generation.

As a rule, the lift effect of a chine interceptor matches the lift of a straight interceptor one size larger mounted inboard of the chine, making them the go-to choice when selecting interceptors.

Chine interceptors are particularly useful when transom space is limited abeam of outboards or sterndrives.

Intermediate interceptor for installing close to propellers

When space between multiple outboards or sterndrives is tight, an intermediate interceptor
offers a viable alternative for additional pitch and roll motion control not possible with a straight interceptor without degrading propeller performance.
Thanks to their special blade shape, intermediate interceptors generate a narrower trail, thus
mitigating propeller inflow disturbance and even allowing installation between outboards
mounted at their minimum offset.

The modular design enables boat designers to develop their own novel applications, e.g. in
multihulls or stepped hull high-speed craft.

FEATURES

• True outboard mount
• Modular design
• Fast actuation
• Straight, V-shaped, chine and
intermediate models
• Integrated mounting plate
• Thru-hull fitting options
- Above waterline
- Concealed behind interceptor
• Submersible servo units
- Brushless 12-24V DC servo motor
- High-precision positioning
- Calibration free
- Durable and accessible
• Auto Cleaning
- Periodically selectable cleaning cycle
- Prevents fouling inside the interceptor
• No corrosive materials



* The data shown are supplied by the manufacturer, ManelService assumes no responsibility for any incorrect values. Take a look at the attached manufacturer's data sheet.