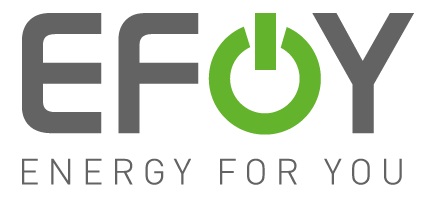 Efoy: the best energy supply on the road

Efoy Comfort is among the best companies in the design of products for vehicles and boats and in particular for energy production such as combustion cells.
Usable all year round
The Efoy Comfort combustion cell guarantees you a reliable supply of energy away from the charging station: in the shade of a tree, in a remote bay, in any weather, in any season, even when the temperature drops below zero.
Quiet
Thanks to the insulation and vibration reduction system of Efoy's combustion cells, noise transmission is limited. Enjoy the peace of mind!
Fully automatic
Once it has been professionally installed, the Efoy Comfort is ready to provide energy. You just need to replace the cartridge from time to time. It does not require any cleaning or maintenance. It doesn't get any more comfortable than this!
Ecological
Efoy Comfort is environmentally friendly. Their combustion cells are extraordinarily ecological!
Light and compact
Efoy Comfort combustion cells have little weigh and are so compact that they can be easily placed both in motorhomes and boats. So much energy in so little space!
Can be used all year round
With the EFOY COMFORT, you have a reliable electricity supply when you are on the road or at sea. Whether you are under a shady tree or in a lonely cove. Irrespective of the weather and all year round - even at sub-zero temperatures!


Quiet
When the EFOY COMFORT is installed as recommended, you will almost hear nothing. Our developed insulation and the sound damping system ensure quiet operation. Enjoy the peace and silence!


Fully automatic and maintenance-free
Your EFOY COMFORT supplies electricity as soon as all connections are properly made. All you have to do is to make sure that fuel is always supplied. You do not even need to clean or maintain the EFOY COMFORT. It does not get any more convenient than this!



Eco-friendly
The EFOY COMFORT is economical in use and extremely eco-friendly!


Lightweight and compact
Whether it is in the rear storage compartment, the side compartment or under the seats, your EFOY dealer will always help you find the right place for your EFOY COMFORT. It is so easy thanks to the compact design and low weight. Many mobile home manufacturers already supply the EFOY COMFORT from the factory. Look for vehicles with EFOY Inside and EFOY Ready symbols.


Comparison to a solar panel
Over the period of one year, EFOY COMFORT provides 3 to 10 times as much electricity as a solar system with the same power rating. To produce the same amount of electricity as an EFOY COMFORT 80 (40 W) with solar power, depending on the country and time of year, you would need a solar system with an output of between 120 and 400 Wp.